2018 | Supplement | Buchkapitel
Influence of Distribution Modulus of Particle Size Distribution on Rheological and Mechanical Properties of Ultra-High-Strength SHCC Matrix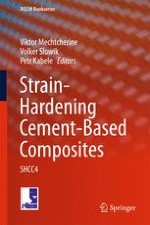 Erstes Kapitel lesen
Autoren: Ketan A. Ragalwar, Hung Nguyen, Ravi Ranade, William F. Heard, Brett A. Williams
Verlag: Springer Netherlands
Abstract
Particle packing models, such as the modified Andreasen and Andersen (A&A) method, have been adopted by researchers for determining the target particle size distribution (PSD) with given ingredients in an Ultra-High Performance Concrete (UHPC). The curvature of the target PSD is governed by a parameter known as the distribution modulus (
q
). It determines the ratio of aggregate/cementitious paste content needed for achieving the densest possible particle packing which likely achieves the greatest compressive strength. In addition to the hardened properties,
q
influences the rheological properties of a UHPC. While achieving the densest particle packing may be the primary objective in a UHPC design, controlling the plastic viscosity of the fresh matrix for homogenous fiber dispersion and reducing the matrix fracture toughness for improved tensile ductility are important objectives for a Strain-Hardening Cementitious Composite (SHCC) design. The design of an Ultra-High-Strength SHCC (UHS-SHCC) therefore requires achieving both the objectives, simultaneously. There is lack of knowledge about the correlations between the distribution modulus and rheological and mechanical properties of SHCC matrices. This paper attempts to address this knowledge gap. In this experimental research, central composite experimental design for reducing the number of trials, along with modified A&A method for mixture proportioning, are employed to investigate the aforementioned correlations for a UHS-SHCC matrix. Results show that there exists an optimum value of
q
for UHS-SHCC design with given set of ingredients.