08.05.2019 | Ausgabe 5/2019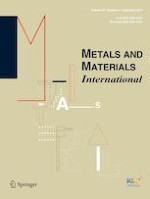 Influence of Exposure Temperature on Degradation of Magnesia Refractory by Steel Refining Slags
Zeitschrift:
Autoren:

Jin Sung Han, Yongsug Chung, Joo Hyun Park
Wichtige Hinweise
Publisher's Note
Springer Nature remains neutral with regard to jurisdictional claims in published maps and institutional affiliations.
Abstract
Corrosion rate of refractory increases as the temperature increases and viscosity of slag decreases. The slag of low viscosity can more easily penetrate into the refractory materials and it causes the refractory degradation. Thus, the corrosion and/or erosion of refractory materials should be thoroughly evaluated under steelmaking conditions. In this study, the experiments were conducted using induction furnace. The steel (Fe-0.8C-0.2Si-0.4Mn-1.2Cr, wt%) and the CaO-Al2O3-8SiO2-5MgO-10CaF2 (C/A = 1.9, wt%) slag were equilibrated in a magnesia refractory at 1520 to 1650 °C. As a results, the penetration depth of slag into the magnesia refractory increased with increasing exposure temperature, which originated from a decrease in viscosity of the slag. It also confirmed that MgO particles were detached from slag/refractory interface by increasing exposure temperature.