05.02.2018 | Ausgabe 3/2018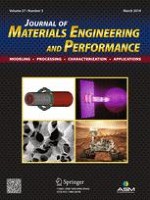 Influence of High Pulsed Magnetic Field on the Dislocations and Mechanical Properties of Al2O3/Al Composites
Zeitschrift:
Autoren:

Jiang-feng Cheng, Gui-rong Li, Hong-ming Wang, Pei-si Li, Chao-qun Li
Abstract
At T6 state, Al–Zn–Mg–Cu aluminum matrix composites reinforced with Al
2
O
3
particles generated in situ were subjected to high pulsed magnetic fields at different magnetic induction intensities (
B
= 2, 3 and 4 T). The results show that the dislocation densities in the treated samples increased with increasing
B
, and the magnetoplastic effect was determined to be the primary cause. The effect of the magnetic field is believed to alter the spin state of free electrons between dislocations and obstacles from the singlet state (associated with high bonding energy) to the triplet state (low bonding energy). The maximum ultimate tensile strength of 532 MPa was obtained at
B
= 4 T with 30 pulses, which was 20.7% higher than that of the initial sample, primarily because of dislocation strengthening. At
B
= 2 T, the elongation was at its maximum of 9.3%, representing an increase of 12% compared with the initial sample, while the associated ultimate tensile strength (447 MPa) was still higher than that of the untreated sample (440 MPa). The relationship between mechanical properties and microstructure was analyzed, and the improved properties observed in this work are explained by the transition of the electron spin state and the piling up of dislocations.