01.08.2013 | Original paper | Ausgabe 4/2013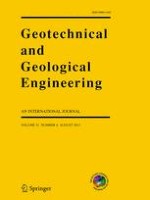 Influence of Infiltration of Sodium Chloride Solutions on SWCC of Compacted Bentonite–Sand Specimens
Zeitschrift:
Autoren:

K. Ravi, Sudhakar M. Rao
Abstract
The degree of saturation of compacted bentonite buffer in deep geological repositories is subject to alterations from infiltration of groundwater and heat emanated from the waste canisters. The matric suction (
ψ
)–degree of saturation (
S
r
) relations of unsaturated clays is represented by soil–water characteristics curves (SWCC) that are influenced by soil structure, initial compaction condition and stress history. Infiltration of groundwater besides increasing the degree of saturation can also alter the pore water chemistry; the associated changes in cation hydration and diffuse double layer thickness could impact the micro-structure and matric suction values. This study examines the influence of infiltrating sodium chloride solutions (1,000–5,000 mg/L) on the transient
ψ
–
S
r
relations of compacted bentonite–sand specimens. Analysis of the
ψ
–
S
r
plots, and X-ray diffraction measurements indicated that infiltration of sodium chloride solutions has progressively less influence on the micro-structure and SWCC relations of bentonite–sand specimens compacted to increasingly higher dry densities. The micro-structure and SWCC relations of specimens compacted to 1.5 Mg/m
3
were most affected, specimens compacted to 1.75 Mg/m
3
were less affected, while specimens compacted to 2 Mg/m
3
remained unaffected upon infiltration with sodium chloride solutions.