01.06.2015 | Ausgabe 6/2015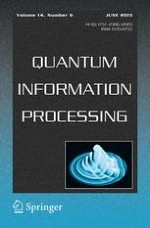 Influence of intrinsic decoherence on entanglement teleportation via a Heisenberg XYZ model with different Dzyaloshinskii–Moriya interactions
Zeitschrift:
Autoren:

Meng Qin, Zhong-Zhou Ren
Abstract
We investigate the characteristics of entanglement teleportation of a two-qubit and three-qubit Heisenberg XYZ model under different Dzyaloshinskii–Moriya (DM) interactions with intrinsic decoherence taken into account. The two-qubit results reveal that the dynamics of entanglement is a symmetric function about the coupling coefficient
\(J\)
for the
\(z\)
-component DM system, whereas it is not for the
\(x\)
-component DM system. The ferromagnetic case is superior to the antiferromagnetic case to restrain decoherence when using the
\(x\)
-component DM system. The dependencies of entanglement, the output entanglement, and the average fidelity on initial state angle
\(\alpha \)
all demonstrate periodicity. Moreover, the
\(x\)
-component DM system can get a high fidelity both in two-qubit and in three-qubit teleportation protocol.