04.07.2019 | Ausgabe 15/2019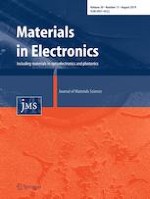 Influence of
l

-serine on microstructural, spectroscopic, electrical and nonlinear optical performance of ammonium dihydrogen phosphate single crystal
Autoren:

J. H. Joshi, S. Kalainathan, M. J. Joshi, K. D. Parikh
Wichtige Hinweise
Publisher's Note
Springer Nature remains neutral with regard to jurisdictional claims in published maps and institutional affiliations.
Abstract
To doubling the frequency of Nd: YAG and Nd: YLF laser sources the ammonium dihydrogen phosphate (ADP) single crystal is widely used. In the present communication, the effect of amino acid namely as
l
-serine on the growth and properties of ADP crystal is been reported. The slow solvent evaporation technique is adopted to grow pure and different weight percentage i.e. 0.4 wt%, 0.6 wt% and 0.8 wt%
l
-serine doped ADP crystals. The structural study suggested tetragonal structure symmetry of all grown crystal with single phasic nature of all of them. The amino acid dopant alters the functional group vibrations of ADP crystal as suggested in FT-IR spectroscopy. The change in morphology and presence of various elements is observed in SEM and EDAX spectroscopy. The improvement is observed in various optical properties like energy band gap, skin depth, SHG, third order nonlinear susceptibility, laser damage threshold etc. on doping the
l
-serine in ADP crystal. The spectra variation of refractive index of all grown crystals is studied. The pure and
l
-serine doped ADP crystals have posses negative kind of photoconductivity.