16.07.2018 | Ausgabe 10/2018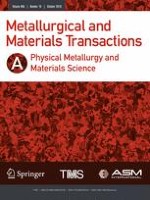 Influence of Martensitic Structure and Carbide Precipitation Behavior on Mechanical Properties of 25CrMoNbB Alloy Steels with Mo Contents of 0.25 and 0.5 Pct
Zeitschrift:
Autoren:

Yaxu Zheng, Fuming Wang, Warren M. Garrison Jr., Yu Lin, Changrong Li
Wichtige Hinweise
Manuscript submitted March 1, 2018.
Abstract
In this article, the effects of Mo contents of 0.25 and 0.50 pct on the martensitic structure and carbide precipitation behavior of the experimental steels were investigated and their effects on strength, toughness, and fatigue strength were studied. The results showed that the martensitic blocks and laths were refined and the dislocation density increased with the addition of Mo contents of 0.25 and 0.50 pct. Meanwhile, the amount of carbides increased and the size of carbides decreased in tempered steels. The refinement of carbides is due to the increment of nucleation sites resulting from martensitic structure refinement and the dislocation density increment. Besides, the improvement of thermal stability of M23C6 carbides enriched with Mo also contributes to carbide refinement. With the addition of 0.50 pct Mo, the strength was improved and the toughness did not deteriorate compared with the steel 0.25 pct Mo. Meanwhile, the fatigue strength was also significantly improved with the addition of 0.50 pct Mo.