15.08.2016 | Ausgabe 11/2016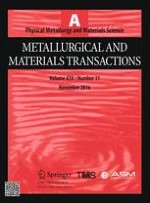 Influence of Melt Superheat, Sr Modifier, and Al-5Ti-1B Grain Refiner on Microstructural Evolution of Secondary Al-Si-Cu Alloys
Zeitschrift:
Autoren:

Jovid Rakhmonov, Giulio Timelli, Franco Bonollo
Wichtige Hinweise
Manuscript submitted February 19, 2016.
Abstract
The role of impurity elements and melt superheat on the efficiency of Sr modification, grain refinement with Al-Ti-B and the precipitation behavior of intermetallic phases in a secondary Al-7Si-3Cu-0.3Mg alloy were investigated. Metallographic and thermal analysis techniques were used to quantitatively examine the macro- and microstructural changes occurring with modifier and grain refiner additions at various pouring temperatures. The results indicate how the Sr modification and grain refinement with Al-Ti-B can be effective enough despite the presence of impurity elements in the material and the variation of pouring temperature. A slight poisonous effect of impurities, in particular, Zr and V, in the grain refinement efficiency can be eventually induced due to their action in promoting the formation of primary AlSiTi compounds. Moreover, grain refiner addition exerted a pronounced influence on the precipitation sequence of Fe-rich phases. The TiB2 particles appeared to promote the formation of Al5FeSi during solidification by acting as a favorable nucleation site.