08.05.2018 | Topical Collection: Metallurgical Processes Workshop for Young Scholars | Ausgabe 4/2018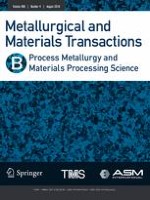 Influence of Melt Superheating Treatment on Solidification Characteristics and Rupture Life of a Third-Generation Ni-Based Single-Crystal Superalloy
Zeitschrift:
Autoren:

Haijun Su, Haifeng Wang, Jun Zhang, Min Guo, Lin Liu, Hengzhi Fu
Wichtige Hinweise
Manuscript submitted September 2, 2017.
Abstract
The influence of melt superheating treatment on the melt properties, solidification characteristics, and rupture life of a third-generation Ni-based single-crystal superalloy was investigated to reveal the critical temperature range of melt structure evolution and its effect on rupture life. The results showed that the viscosity of superalloy decreased but the surface tension increased with increasing superheating temperature. Two characteristic temperature points where the melt viscosity and undercooling degree suddenly change were determined to be 1600 °C and 1700 °C, respectively. Similarly, the stability of the solidification interface firstly improved and then weakened with increasing superheating temperature. The dendrite arms were well refined and the segregation was reduced at 1700 °C. In addition, the rupture life obtained at 1100 °C and 137 MPa increased by approximately 30 pct, approaching the rupture life of the corresponding superalloy containing 2 pct Ru, with increasing superheating temperature from 1500 °C to 1700 °C. When the melt was further heated to 1800 °C, the rupture life decreased. The evolutions of solidification characteristics and rupture life with increasing melt superheating temperature were attributed to changes in the melt structure.