01.10.2019 | ORIGINAL PAPER | Ausgabe 10/2019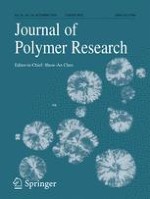 Influence of modified starch and nanoclay particles on crystallization and thermal degradation properties of cross-linked poly(lactic acid)
Zeitschrift:
Autoren:

Mohammad Shayan, Hamed Azizi, Ismaeil Ghasemi, Mohammad Karrabi
Wichtige Hinweise
Publisher's note
Springer Nature remains neutral with regard to jurisdictional claims in published maps and institutional affiliations.
Abstract
Cross-linked poly(lactic acid) (PLA)/ maleated thermoplastic starch (MTPS)/ montmorillonite (MMT) composites were prepared by melt blending. Crosslinking was conducted by adding di-cumyl peroxide (DCP) in the presence of triallyl isocyanurate (TAIC) as co-agent. MTPS was produced by grafting maleic anhydride (MA) to thermoplastic starch in an internal mixer. DSC results demonstrated that crosslinking of PLA increased glass transition temperature (T
g
) and reduced crystallinity. Presence of MTPS generally declined crystallinity despite of the relative effectiveness of nanoclay particles on enhancing the crystallinity of PLA matrix. Crosslinking of PLA caused significant improvement of thermal stability. Addition of MTPS decreased thermal stability of PLA. Presence of nanoclay enhanced the maximum temperature in final thermal degradation step. The non-isothermal kinetics of the degradation processes was assessed using two different integral methods. Results showed that crosslinking increased decomposition activation energy of PLA. However, addition of MTPS and nanoclay caused to decrease of activation energy
.