15.10.2018 | Communication | Ausgabe 12/2018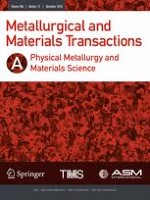 Influence of Morphology and Structure on Electrochemical Performances of Li-Ion Battery Sn Anodes
Zeitschrift:
Autoren:

Chengshuai Chang, Lian Liu, Shulan Wang, Li Li, Xuan Liu
Wichtige Hinweise
Manuscript submitted March 15, 2018.
Abstract
Sn films with different particle sizes were prepared
via
electrodeposition, and their microstructure as well as morphology was characterized by scanning electron microscopy and X-ray diffraction. As the anode materials for Li-ion batteries, the electrochemical performances of the Sn films are significantly influenced by their morphology and structure. During electrodeposition, the grain size of Sn increases with duration of deposition, leading to anode compaction and cell capacity deterioration. The Sn-300 anode electrodeposited for 300 seconds shows the highest charge/discharge capacity of 592.1 mAh/g, while the value decreases to 437.7 mAh/g in the Sn-600 anode (electrodeposited for 600 seconds). Both Sn-300 and Sn-600 anodes show similar irreversible capacity and Coulomb efficiency. The Sn-3600 anode fabricated
via
electrodeposition for 3600 seconds shows the least capacity and the worst cyclic performance. The current study demonstrates that the increase in the particle size of active Sn materials worsens the capacity and cyclic performances of Sn-anode materials for Li-ion batteries. This finding improves our understanding on relationship between morphology/microstructure and performances of Li-ion battery Sn anode materials.