01.09.2016 | Original Article | Ausgabe 18/2016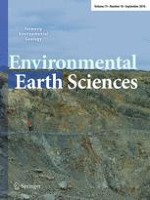 Influence of organic and inorganic amendments on the bioavailability of lead and micronutrient composition of Indian mustard (
Brassica juncea

(L.)

Czern

) in a lead-contaminated soil
Zeitschrift:
Autoren:

A. Kalsi, R. Sikka, D. Singh
Abstract
Irrigation with untreated sewage water in periurban areas and other anthropogenic activities have resulted in accumulation of lead (Pb) in soils. To prevent its movement to deeper soil layers and groundwater aquifers, identification of some viable remedial measures is necessary for chemical and biological immobilization of Pb in soil. The objective of this study was to evaluate the impact of organic and inorganic amendments on Pb bioavailability, immobilization and on their effectiveness in enhancing micronutrients and growth of Indian mustard (
Brassica juncea
(L.)
Czern
). A loamy sand soil spiked with five levels of Pb varying from 0 to 400 mg kg
−1
soil was used for the screen house study. Amendments used were lime (CaCO
3
), farm yard manure (FYM) and press mud (PM) applied at 2.5 and 5.0 % (w/w) and silt + clay applied at 20 and 40 % (w/w). Indian mustard was grown for 60 days with adequate application of nitrogen, phosphorus and potassium. All amendments reduced the extraction of Pb and the magnitude of reduction was highest with the addition of silt + clay. Addition of amendments increased plant dry matter yield as compared to unamended soil. All amendments significantly reduced Pb accumulation by Indian mustard and the magnitude of reduction increased with increasing the rate of amendment application. The addition of amendments also increased the concentration of micronutrients in Indian mustard as compared to unamended soils. The ameliorative efficiency of amendments in terms of reducing Pb content in plants followed the order silt + clay > lime > FYM > PM.