18.09.2017 | Ausgabe 11/2017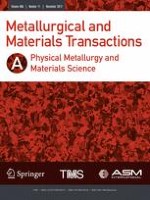 Influence of Powder Outgassing Conditions on the Chemical, Microstructural, and Mechanical Properties of a 14 wt% Cr Ferritic ODS Steel
Zeitschrift:
Autoren:

D. Sornin, P.-F. Giroux, E. Rigal, D. Fabregue, R. Soulas, D. Hamon
Wichtige Hinweise
Manuscript submitted March 15, 2017.
Abstract
Oxide dispersion-strengthened ferritic stainless steels are foreseen as fuel cladding tube materials for the new generation of sodium fast nuclear reactors. Those materials, which exhibit remarkable creep properties at high temperature, are reinforced by a dense precipitation of nanometric oxides. This precipitation is obtained by mechanical alloying of a powder and subsequent consolidation. Before consolidation, to obtain a fully dense material, the powder is vacuumed to outgas trapped gases and species adsorbed at the surface of the powder particles. This operation is commonly done at moderate to high temperature to evacuate as much as possible volatile species. This paper focuses on the influence of outgassing conditions on some properties of the further consolidated materials. Chemical composition and microstructural characterization of different materials obtained from various outgassing cycles are compared. Finally, impact toughness of those materials is evaluated by using Charpy testing. This study shows a significant influence of the outgassing conditions on the mechanical properties of the consolidated material. However, microstructure and oxygen contents seem poorly impacted by the various outgassing conditions.