01.06.2015 | Ausgabe 6/2015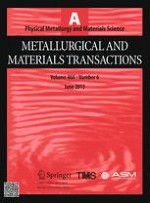 Influence of PWHT on Toughness of High Chromium and Nickel Containing Martensitic Stainless Steel Weld Metals
Zeitschrift:
Autoren:

M. Divya, Chitta Ranjan Das, S. Mahadevan, S. K. Albert, R. Pandian, Sujoy Kumar Kar, A. K. Bhaduri, T. Jayakumar
Wichtige Hinweise
Manuscript submitted May 27, 2014.
Abstract
Commonly used 12.5Cr-5Ni consumable specified for welding of martensitic stainless steels is compared with newly designed 14.5Cr-5Ni consumable in terms of their suitability for repair welding of 410 and 414 stainless steels by gas tungsten arc welding process. Changes in microstructure and austenite evolution were investigated using optical, scanning electron microscopy, X-ray diffraction techniques and Thermo-Calc studies. Microstructure of as-welded 12.5Cr-5Ni weld metal revealed only lath martensite, whereas as-welded 14.5Cr-5Ni weld metal revealed delta-ferrite, retained austenite, and lath martensite. Toughness value of as-welded 12.5Cr-5Ni weld metal is found to be significantly higher (216 J) than that of the 14.5Cr-5Ni weld metal (15 J). The welds were subjected to different PWHTs: one at 923 K (650 °C) for 1, 2, 4 hours (single-stage PWHT) and another one at 923 K (650 °C)/4 h followed by 873 K (600 °C)/2 h or 873 K (600 °C)/4 h (two-stage heat treatment). Hardness and impact toughness of the weld metals were measured for these weld metals and correlated with the microstructure. The study demonstrates the importance of avoiding formation of delta-ferrite in the weld metal.