01.04.2015 | Research Article | Ausgabe 4/2015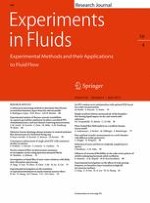 Influence of structural flexibility on the wake vortex pattern of airfoils undergoing harmonic pitch oscillation
Zeitschrift:
Autoren:

B. Monnier, A. M. Naguib, M. M. Koochesfahani
Abstract
Reported herein is an investigation of the influence of the structural flexibility of sinusoidally pitching airfoils on the pattern of vorticity shed into the wake. For rigid airfoils, it is well known that, depending on the oscillation frequency and amplitude, this pattern takes the form of the classical or reverse von Kármán vortex street. The pattern may be characterized by the vortex circulation (
Γ
o
), vortex-to-vortex streamwise and cross-stream spacing (
a
and
b,
respectively), and vortex core radius (
R
). In the present work, these four parameters are obtained from particle image velocimetry measurements in the wake of airfoils consisting of a rigid "head" and flexible "tail" at chord Reynolds number of 2010 for different tail flexibilities. The results show that flexible airfoils exhibit the switch from classical to reverse von Kármán vortex street (i.e., change in the sign of
b
) at a reduced frequency of oscillation lower than their rigid counterpart. At a given oscillation frequency, the Strouhal number at which this switch occurs is smallest for a given airfoil structural flexibility; which becomes stiffer with increasing frequency. Using Strouhal number based on the
actual
trailing edge oscillation amplitude, reasonable scaling is found of the dependence of not only
b
but also
Γ
o
,
a
and
R
on the motion and structure parameters for all airfoils investigated. These results are complemented with analyses using a vortex array model, which together with the identified scaling of the wake vortex parameters, provide basis for the computation of the net thrust acting on the airfoil.