01.08.2014 | Original Paper | Ausgabe 8/2014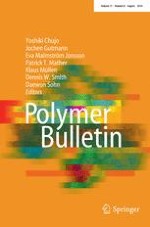 Influence of talc particle size and content on crystallization behavior, mechanical properties and morphology of poly(lactic acid)
Zeitschrift:
Autoren:

Nawadon Petchwattana, Sirijutaratana Covavisaruch, Sarawut Petthai
Abstract
This research aimed to employ inorganic filler such as talc to promote crystallization in poly(lactic acid) (PLA). Three different talc particle sizes, namely 1, 5 and 30 µm, were used as nucleating agents; each was compounded with PLA at various contents from 0 to 10 wt%. The crystallization temperature (
T
c
) reduced most rapidly from 128 to 107 °C with the presence of 1 wt% talc. Beyond this concentration, the
T
c
still decreased but only minutely. Compared to other sizes, finer talc particles were found to promote a slightly higher degree of crystallinity. X-ray diffraction peaks indicated that the α-crystal was formed in all PLA/talc compositions. The heat distortion temperature values suggested that the modified PLA could resist the thermal deformation from 58 °C to a maximum value of 139 °C when 1 µm talc was added at 10 wt%. With the presence of talc, the composites were more brittle and both tensile elongation at break and impact strength were decreased.