2015 | OriginalPaper | Buchkapitel
3. Influence of Temperature on Supercapacitor Components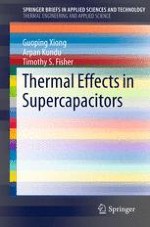 Erstes Kapitel lesen
Autoren: Guoping Xiong, Arpan Kundu, Timothy S. Fisher
Abstract
Thermophysical properties of supercapacitor components determine the thermal behavior of supercapacitors at different application temperatures. A fundamental understanding of the influence of temperature on these properties is necessary to design supercapacitors with high performance for practical applications. Major supercapacitor elements include electrolytes, electrodes (active electrode materials, current collectors, and binders) and separators. As discussed in Chap.
2
, supercapacitor electrolytes can be broadly classified into two types: liquid electrolytes and solid-state/polymer gel electrolytes (Xiong et al. in Electroanalysis 26:30–51, 2014 [
24
]). Conventional liquid electrolytes include: (i) aqueous electrolytes, (ii) organic electrolytes and (iii) ionic liquid electrolytes. The commonly used solid-state polymer gel electrolytes are water-containing (proton-conducting/alkaline), organic solvent-containing, and ionic liquid-containing polymer electrolytes. Active electrode materials for supercapacitors are broadly classified into three categories (Xiong et al. in Electroanalysis 26:30–51, 2014 [
24
]): (1) carbon materials, (2) conducting polymers, and (3) transition metal oxides. The importance of these electrolytes, electrode materials and separators has been addressed in prior reviews (Xiong et al. in Electroanalysis 26:30–51, 2014 [
24
], Simon and Gogotsi in Nat Mater 7:845–854, 2008 [
39
], Ye et al. in J Mater Chem A 1:2719–2743, 2013 [
84
], Zhang in J Power Sources 164:351–364, 2007 [
193
], Huang in J Solid State Electr 15:649–662, 2011 [
194
]). This chapter discusses the effects of temperature on the thermophysical properties of these components.