01.04.2013 | Ausgabe 2/2013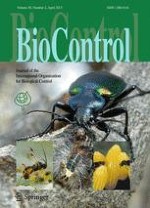 Influence of the application methods and doses on the susceptibility of black vine weevil larvae
Otiorhynchus sulcatus

to

Metarhizium anisopliae

in field-grown strawberries
Zeitschrift:
Autoren:

Minshad A. Ansari, Tariq M. Butt
Wichtige Hinweise
Handling Editor: Ralf Ehlers
Abstract
Entomopathogenic fungi are commercially available for the control of insect pests, including the black vine weevil (BVW)
Otiorhynchus sulcatus
Fabricius (Coleoptera:Curculionidae). However,
Metarhizium anisopliae
(Metsch.) Sorokin (Clavicipitaceae) has not been used to control BVW in field-grown strawberries. Field trials were conducted in different locations in the UK during 2009–2010 to evaluate the different formulations (granular vs. drench) and application methods (premixed, drench, bare root treatment) of commercial strain of
M. anisopliae
Met52
®
(=F52), the entomopathogenic nematodes and the organophosphate insecticide Cyren
®
against BVW. The highest dose (10
14
cfu ha
−1
) tested provided significantly better control than the intermediate (10
13
cfu ha
−1
) or low (10
12
cfu ha
−1
) doses. BVW larval control at the high, intermediate and low doses was 71–96, 40–75 and 6–11 %, respectively. Premixing, drench or bare root treatment with Met52
®
gave similar levels of BVW control. Irrespective of the application methods or soil types, the high dose rate of Met52
®
provided the best control. Significantly high larval control was achieved (78–97 %) when chlorpyrifos was applied at planting than eight weeks post planting (53 %). There were significant differences in BVW control between Met52
®
(88 %) and reduced doses of
Heterorhabditis bacteriophora
Poinar (20–29 %) or
Steinernema kraussei
Steiner (39–75 %) when applied alone. However, when used together, low dose of
S. kraussei
and Met52
®
provided 100 % control of BVW larvae. This study shows that Met52
®
has considerable potential for the control of BVW larvae in commercial field-grown strawberry, thereby offering an environmentally benign alternative to chemical insecticides.