01.06.2015 | Original Article | Ausgabe 2/2015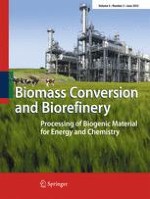 Influence of the heating rate and the potassium concentration of the feed solution on the hydrothermal liquefaction of used yeast and apple pomace under reducing conditions
Zeitschrift:
Autoren:

Alexander Hammerschmidt, Nikolaos Boukis, Ulrich Galla, Thomas Zevaco, Eckhard Dinjus, Bernd Hitzmann
Abstract
In the work reported here, baker's yeast (
Saccharomyces cerevisiae
), used yeast, and apple pomace were used as feed for the production of liquid biofuels in a continuous one-step process under hydrothermal conditions in the presence of excess hydrogen and K
2
CO
3
. The biomass conversion experiments were performed in an up-flow reactor under near-critical water conditions (
T
330–450 °C,
p
20–32 MPa). The products consisted of three phases: an oil-like organic phase, a gaseous phase, and an aqueous phase. Higher concentrations of organic carbon in the process resulted in a higher product yield. The heating value of the organic phase was up to 37.6 MJ kg
−1
. Liquefaction of yeast without any addition of K
2
CO
3
also resulted in liquid oil, but the quality and the yield of the oil product were lower. The use of K
2
CO
3
catalyst provides significant effect on the apple pomace conversion process. The carbon mass yield ranged from 270 to 400 g kg
−1
. Our older statement that the reaction of temperature of 400 °C is optimal for the oil yield and quality has been confirmed with the present new experimental results.