27.10.2017 | Ausgabe 5/2018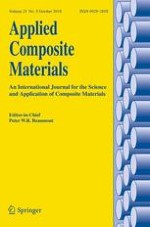 Influence of the Hybrid Combination of Multiwalled Carbon Nanotubes and Graphene Oxide on Interlaminar Mechanical Properties of Carbon Fiber/Epoxy Laminates
Zeitschrift:
Autoren:

J. A. Rodríguez-González, C. Rubio-González, M. Jiménez-Mora, L. Ramos-Galicia, C. Velasco-Santos
Abstract
An effective strategy to improve the mode I and mode II interlaminar fracture toughness (
G
IC
and
G
IIC
) of unidirectional carbon fiber/epoxy (CF/E) laminates using a hybrid combination of multiwalled carbon nanotubes (MWCNTs) and graphene oxide (GO) is reported. Double cantilever beam (DCB) and end notched flexure (ENF) tests were conducted to evaluate the
G
IC
and
G
IIC
of the CF/E laminates fabricated with sprayed MWCNTs, GO and MWCNTs/GO hybrid. Scanning electron microscopy was employed to observe the fracture surfaces of tested DCB and ENF specimens. Experimental results showed the positive effect on the
G
IC
and
G
IIC
by 17% and 14% improvements on CF/E laminates with 0.25 wt.% MWCNTs/GO hybrid content compared to the neat CF/E. Also, the interlaminar shear strength value was increased for MWCNTs/GO-CF/E laminates. A synergetic effect between MWCNTs and GO resulted in improved interlaminar mechanical properties of CF/E laminates made by prepregs.