30.08.2016 | Ausgabe 11/2016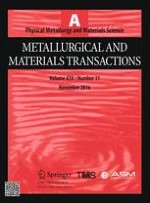 Influence of the Initial Microstructure on the Reverse Transformation Kinetics and Microstructural Evolution in Transformation-Induced Plasticity–Assisted Steel
Zeitschrift:
Autoren:

Jeong In Kim, Joo Hyun Ryu, Sea Woong Lee, Kyooyoung Lee, Yoon-Uk Heo, Dong-Woo Suh
Wichtige Hinweise
Manuscript submitted February 23, 2016.
Abstract
The reverse transformation behavior upon heating to intercritical temperature was studied in Fe-0.21C-2.2Mn-1.5Si (wt pct) alloy with three initial microstructures. One is the cold-rolled (CR) structure and two others are martensite having different fractions of retained austenite. The CR structure exhibits slower reverse transformation kinetics than martensite due to the lesser population of potent nucleation sites and coarse cementite particles. The film type of retained austenite at the martensite lath boundary contributes to the earlier start of the reverse transformation, because it can proceed as the growth of pre-existing retained austenite, which makes the nucleation process less critical. Besides, the growth of interlath austenite plays an essential role in the evolution of fine lath-type reverse-transformed microstructure, which was difficult to obtain from similar initial microstructures of martensite having negligible fraction of interlath austenite.