2006 | OriginalPaper | Buchkapitel
Influence of the morphology of adhesive joining on the mechanical properties of periodic metal hollow-sphere-structures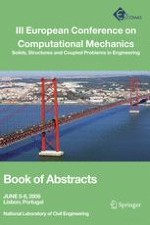 Erstes Kapitel lesen
Autoren: T. Fiedler, A. Öchsner, J. Grácio
Verlag: Springer Netherlands
Hollow-sphere-structures (HSS) originate a new group of cellular materials characterised by a high reproducibility of geometry and therefore mechanical properties. Well-known advantages of cellular materials are a high ability of energy adsorption, good damping, excellent heat insulation and a high specific stiffness. Combination of these properties opens a wide field of potential applications, e.g. automotive, aviation or space-industry. Essential Limiting factors for the utilisation of cellular materials are inconstant material parameters and relatively high production costs. Both factors can be reduced by the application of hollow-sphere-structures. A new powder metallurgy based manufacturing route enables the economic production of metallic hollow spheres of defined geometry. Different joining technologies such as sintering, soldering and adhering can be applied to assemble hollow spheres to interdependent structures. Adhering provides the most economic way of joining and allows for further cost reduction and therefore the expansion of the field of potential applications. Another important advantage it the possible utilisation of the mechanical behaviour and morphology of the adhesive layer as a further design parameter for the optimisation of the structure's mechanical properties for specific applications.
The influence of the morphology and mechanical properties of the adhesive layer is discussed in the scope of this article. Finite element (FE) analysis is performed for periodic structures and the results are compared for different geometries. Two different approaches for adhering are considered: hollow spheres completely embedded in a polymer matrix (syntactic foam) and alternatively, concentration of the adhesive layer in the contact points of the spheres (Partial-HSS). In contrast to earlier approaches (e.g. [
1
,
2
]), the geometry is discretised based on regular hexahedron elements. This approach is much more time-consuming, but important in order to achieve more accurate simulation of nonlinear-behaviour (e.g. plasticity).