01.09.2012 | Original Paper | Ausgabe 6/2012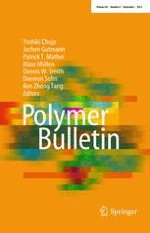 Influence of ultrafine full-vulcanized powdered rubber on NR/SBR blends
Zeitschrift:
Autoren:

Xiaobo Liu, Lina Bian, Ying Gao, Zhong Wang
Abstract
In this paper, the use of ultrafine full-vulcanized powdered styrene-butadiene rubber (UFPSBR) in natural rubber/styrene-butadiene rubber was studied. Scanning electron microscopy (SEM) and thermogravimetric analysis (TGA) were employed to characterize UFPSBR. Other testing methods were used to determine the performance of the vulcanizates containing UFPSBR. To analyze the cross-link density of vulcanizates, equilibrium swelling method was used. Dynamic mechanical analysis (DMA) was used to analyze storage modulus (
E
′) and loss tangent (tanδ). SEM results showed that the average diameter of UFPSBR particles was 10 μm approximately. TGA indicated that the amount of inorganic particles in UFPSBR was about 32 % by weight. The testing results of mechanical properties showed that the compounds containing 5 phr UFPSBR had good comprehensive performance. DMA results showed that, according to the values of tanδ, after UFPSBR was added the wet traction performance of the blends was improved.