15.07.2020 | Ausgabe 7/2020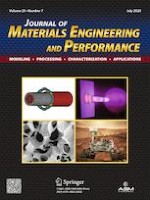 Influence of Warm Predeformation Temperature on the Corrosion Property of Type 304 Austenitic Stainless Steel
Zeitschrift:
Autoren:

Huimin Tao, Chengshuang Zhou, Yuanjian Hong, Yuanyuan Zheng, Kaiyu Zhang, Jinyang Zheng, Lin Zhang
Wichtige Hinweise
Publisher's Note
Springer Nature remains neutral with regard to jurisdictional claims in published maps and institutional affiliations.
Abstract
The influence of predeformation temperature (100-400 °C) on the corrosion property of the predeformed 304 austenitic stainless steel (SS) in 3.5 wt.% NaCl medium was studied by electrochemical and microstructural characterization. The degradation of pitting corrosion resistance of the predeformed 304 SS can be inhibited by decreasing the deformation temperature. The increase in special (low-Σ coincidence site lattice) boundaries, the decrease in low angle and random grain boundaries improve the pitting corrosion resistance. The corrosion property of the predeformed 304 SS is controlled by the coupling effect of grain boundary and dislocation, while it is little affected by the residual stress. The microstructures induced by adjusting predeformation temperature change the characteristics of the passive film on the SS surface, which affects the pitting corrosion resistance. The achieved results distinctly demonstrate that high-strength and corrosion-resistant metallic materials are possible to be developed by controlling predeformation temperature.