25.07.2018 | Ausgabe 5/2018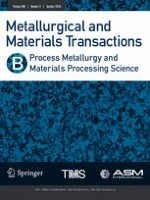 Influences of Quench Cooling Rate on Microstructure and Corrosion Resistance of Al-Cu-Mg Alloy Based on the End-Quenching Test
Zeitschrift:
Autoren:

Yuan Yin, BingHui Luo, HuiBo Jing, ZhenHai Bai, Yang Gao
Wichtige Hinweise
Manuscript submitted October 16, 2017.
Abstract
To investigate the effects of the quench cooling rate on corrosion resistance of Al-Cu-Mg alloy, an end-quenching test was conducted and the microstructures at different cooling rates were observed by SEM and TEM. Additionally, the corrosion resistance was characterized by an intergranular corrosion test and electrochemical test. Moreover, the finite element method was applied to simulate the end quenching process. The results indicate that the actual end quenching process can be approximated as one-dimensional heat transfer, and the cooling rate varies at different cooling distances. By affecting the microstructures, decreasing the cooling rate leads to a decline in the corrosion properties. Low cooling rates coarsen the constituent particles and grain boundary particles, resulting in a wide precipitation-free zone and an increase in the intensity of corrosion reactions. A high cooling rate concentrates on the intragranular precipitant, which can reduce the pitting depth and represents a conversion from localized corrosion to general corrosion.