2017 | OriginalPaper | Buchkapitel
4. Influential Factors of Thermochemical Conversion of Basic Components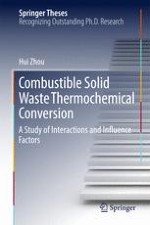 Erstes Kapitel lesen
Autor: Hui Zhou
Verlag: Springer Singapore
Abstract
Chapter
3
investigated the pyrolytic characteristics and mechanisms of basic components, while the reaction conditions were constant, which simplified the comparison of different components. Then, which factors could influence the pyrolytic process of basic components? This chapter will try to provide an answer to this question. Actually, part of the content was involved in Chap.
3
. For example, during the study of kinetics in
3.​1
, the pyrolysis in thermogravimetric analyzer (TGA), slow pyrolysis in Macro-TGA, and fast pyrolysis in Macro-TGA were compared. This chapter aims to investigate this question systematically. Limited by the number of experiments, we could not study the influential factors of all the basic components. Lignin and polyvinyl chloride (PVC) account for high fractions in combustible solid waste (CSW); the thermochemical conversion processes of them are complicated; and a large amount of polycyclic aromatic hydrocarbons (PAHs) are formed during the thermochemical processes. In particular for PVC, the chlorine in its structure is the main chlorine source of dioxins. Therefore, this chapter chose lignin as the representative of biomass basic components and PVC as the representative of biomass basic components. Investigation of different influence factors could help us determine suitable factors to enhance efficiency and control pollution in industrial applications. In addition, understanding the effect of different factors could help to further explore the pyrolytic mechanisms of basic components. It should be noted that the study of influence factor in this chapter was limited to single component, and the interactions of basic components were the research focus of next chapter.