2019 | OriginalPaper | Buchkapitel Open Access
5. Info-Gap Decision Theory (IG)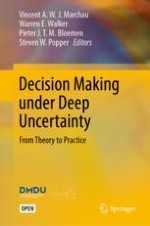 Autor: Yakov Ben-Haim
Abstract
Info-Gap (IG) Decision Theory is a method for prioritizing alternatives and making choices and decisions under deep uncertainty.

An "info-gap" is the disparity between what

is known

and what

needs to be known

for a responsible decision.

Info-gap analysis does not presume knowledge of a worst-case or of reliable probability distributions.

Info-gap models of uncertainty represent uncertainty in parameters and in the shapes of functional relationships.

IG Decision Theory offers two decision concepts:

robustness

and

opportuneness

.

The

robustness

of an alternative is the greatest horizon of uncertainty up to which that alternative satisfies critical outcome requirements.

The

robustness strategy

satisfices the outcome and maximizes the immunity to error or surprise. This differs from outcome optimization.

The

robustness function

demonstrates the trade-off between immunity to error and quality of outcome. It shows that knowledge-based predicted outcomes have no robustness to uncertainty in that knowledge.

The

opportuneness

of a decision alternative is the lowest horizon of uncertainty at which that decision enables better-than-anticipated outcomes.

The

opportuneness strategy

seeks windfalls at minimal uncertainty.

We discuss "innovation dilemmas" in which the decisionmaker must choose between two alternatives, where one is putatively better but more uncertain than the other.

Two examples of info-gap analysis are presented, one quantitative that uses mathematics and one qualitative that uses only verbal analysis.