2019 | OriginalPaper | Buchkapitel Open Access
10. Info-Gap (IG): Robust Design of a Mechanical Latch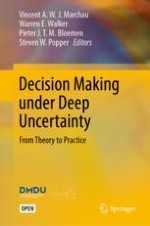 Autoren: François M. Hemez, Kendra L. Van Buren
Abstract
Info-Gap (IG) Decision Theory, introduced in Chap.

5

, is used to formulate, and solve, the analysis of robustness in the early design of a mechanical latch.

The three components necessary to assess robustness of the latch design (a system model, performance requirement, and representation of uncertainty) are discussed.

The robustness analysis indicates that the nominal design can accommodate significant uncertainty before failing to deliver the required performance.

The discussion concludes with the assessment of a variant design to show how a decision ("

which design should be chosen

?") can be confidently reached despite the presence of significant gaps in knowledge.