2017 | OriginalPaper | Buchkapitel
Information Flow for Timed Automata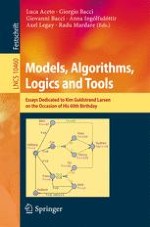 Autoren: Flemming Nielson, Hanne Riis Nielson, Panagiotis Vasilikos
Abstract
One of the key demands of cyberphysical systems is that they meet their safety goals.
Timed Automata
has established itself as a formalism for modelling and analysing the real-time safety aspects of cyberphysical systems. Increasingly it is also demanded that cyberphysical systems meet a number of security goals for confidentiality and integrity.
Information Flow Control
is an approach to ensuring that there are no flows of information that violate the stated security policy.
We develop a language based approach to the modelling and analysis of timed systems that allows to incorporate considerations of information flow control. We define a type system for information flow that takes account of the non-determinism and clocks of timed systems. The adequacy of the type system is ensured by means of a non-interference result.