15.10.2019 | Technical Paper | Ausgabe 4/2020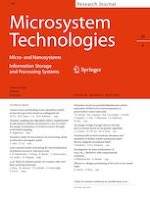 Injection molding and characterization of PMMA-based microfluidic devices
Zeitschrift:
Autoren:

Xiuqing Ma, Rui Li, Zhiming Jin, Yiqiang Fan, Xuance Zhou, Yajun Zhang
Wichtige Hinweise
Publisher's Note
Springer Nature remains neutral with regard to jurisdictional claims in published maps and institutional affiliations.
Abstract
Microfluidics has been widely used in biological, chemical, medical and environmental fields for the precise control of liquid in micro/nanoscale. Various fabrication methods have been invented based on polymer materials in the past decade. Currently, under the circumstance of massive fabrication of microfluidic devices, injection molding is still the cheapest and fastest approaches. Injection molding products have been widely used in everyday life, however, the injection molding of polymer-based microfluidics has not been extensively investigated in the previous studies. In this study, we proposed a relatively comprehensive fabrication procedure for the injection molding of polymer microfluidic chips: the testing microfluidic chip with typical microfluidic components were designed, followed with mold design and fabrication; a single screw injection molding machine was used for the fabrication of PMMA-based microfluidic chips under different processing parameters; finally, another layer of polymer sheet was bonded to seal the microchannel and chip's functionality was tested. The profile of the fabricated microchannels, as well as surface quality under difference injection molding parameters was also discussed in this study. This study is trying to provide a comprehensive injection molding approach for polymer-based microfluidics, the chip and injection mold design process, as well as the injection molding parameters, could have reference value for the future massive production of polymer microfluidic chips for biological and medical applications.