01.09.2015 | Ausgabe 3/2015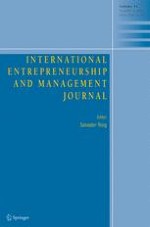 Innovation and entrepreneurship studies: one or two fields of research?
Autoren:

Hans Landström, Fredrik Åström, Gouya Harirchi
Abstract
As we have moved towards a more knowledge intensive society, innovation and industrial dynamics have grown in importance over the last 40-50 years. We are frequently using concepts such as innovation and entrepreneurship, and the way we perceive and define these concepts will to a high extent influence our way of thinking and acting. Depending on the way we define these concepts, we will tend to use different knowledge-bases when acting as policy-makers, or as researchers. Therefore, it becomes important to elaborate on the knowledge bases that we have within the fields of innovation and entrepreneurship. This study we elaborate on the question: Can innovation and entrepreneurship be seen as one or two fields of research? We will elaborate on this issue by comparing the core works in innovation and entrepreneurship studies respectively, as identified by Fagerberg et al. (Research Policy 41(7):1121–1131,
2012a
) and Landström et al. (Research Policy 41(7):1154–1181,
2012
), asking the questions: Who are the leading knowledge producers and the core works in the two fields? Are there overlaps in the literature used? and Can the existence or absence of overlaps tell us anything about to what extent innovation and entrepreneurship studies can be considered as two fields or parts of a single broader scientific field, sharing and contributing to the same knowledge base? The studies by Fagerberg et al. and Landström et al. are based on two unique databases consisting of all references in twelve "state-of-the-art" books in entrepreneurship studies and eleven books in innovation studies. The chapters in these "state-of-the-art" books are written by experts within the field, and it can be assumed that the most frequently cited references in these chapters represent "core knowledge" in entrepreneurship and innovation research. The study shows that we are talking about two more or less separate fields of research. Despite common roots in Schumpeter and some interrelated works, the two fields seem to have drifted apart over the last decades. However, there seems to be some elements of overlaps, for example, in the interest in the evolutionary approaches and in geographic differences in innovation and entrepreneurship, but also in an interest in topics such as innovation management (corporate entrepreneurship) and in technology-based ventures.