2014 | OriginalPaper | Buchkapitel Open Access
20. Innovative Business Approaches for the Reduction of Extreme Poverty and Marginality?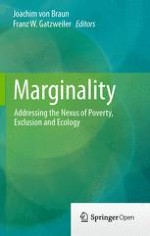 Autoren: Heike Baumüller, Christine Husmann, Joachim von Braun
Verlag: Springer Netherlands
Abstract
The potential of innovative business approaches to target the poor is increasingly being recognized. This chapter outlines the evolution of thinking in the business world and explores in detail some of the relatively new business approaches that have emerged for addressing societal problems. The authors also examine whether and how these approaches can support not only those living close to the poverty line, but also help engage the marginalized at the lowest end of the income scale. While it may be unrealistic to expect businesses to be able to reach all of the extremely poor and marginalized, the authors suggest that the boundaries of innovative business operations can be pushed much further to include a far larger number of the marginalized and extremely poor.