26.02.2019 | Ausgabe 6/2020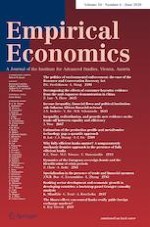 Insights from kernel conditional-probability estimates into female labour force participation decision in the UK
Zeitschrift:
Autoren:

Obbey Elamin, Len Gill, Martyn Andrews
Wichtige Hinweise
The authors thank Chris Orme and Joao Santos Silva for helpful advice. Our thanks goes also to Simon Peters, Ken Clark, Ralf Becker, Alastair Hall, Abdilahi Ali, William Tayler, Laurence Roope, Hormoz Ramian and Eric Smiley. We are grateful also to the IT services teams at The University of Manchester, to Simon Hood and Michael Croucher and all the management team of Man2 and RedQueen high performance computer clusters and CONDOR system. We wish to thank the two anonymous referees and the editor for their very constructive comments that have led to a substantially improved paper.
Publisher's Note
Springer Nature remains neutral with regard to jurisdictional claims in published maps and institutional affiliations.
Abstract
The female labour force participation decision in the UK is a well-researched topic in empirical economics and econometrics. In this paper, using data from the UK Labour Force Survey in 2007, we contribute to the rich body of the literature by estimating a model using the kernel mixed-data-type conditional-probability (KMDTCP) estimator. We extend the analysis by comparing the predicted probabilities of the KMDTCP estimator with the estimates of a multinomial logit (MNL) model. Additionally, kernel smoothing specification tests are applied in order to compare different functional forms for the independent variables in the MNL model against the KMDTCP estimates. Our results demonstrate that the difference between the predictions from the KMDTCP estimator and the MNL is reduced when the functional form of continuous independent variables in the MNL model is relaxed to a semi-parametric form using dummy variables and interaction terms. The properties that are captured by the KMDTCP estimator show clearly that the propensity to work decreases with the increase in the number of dependent children. Furthermore, our analyses show that females older than 40 years of age have a high propensity to work irrespective of the number of dependent children.