2017 | OriginalPaper | Buchkapitel
5. Instabilities of Parallel Flows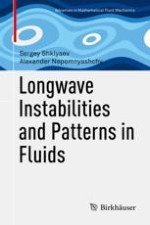 Erstes Kapitel lesen
Autoren: Sergey Shklyaev, Alexander Nepomnyashchy
Verlag: Springer New York
Abstract
The stability theory of viscous parallel flows is a traditional part of the fluid mechanics that has a long history (see [
1
–
4
]). As well as the Rayleigh–Benard problem, the abovementioned problem, which has important applications like laminar-turbulent transition in channel flows and boundary layers, is a touchstone for different approaches of the nonlinear science. The nonlinear evolution of disturbances on the background of a parallel flow in a channel was the first physical problem that was considered by means of the complex Ginzburg–Landau equation [
5
,
6
]. The most obvious difference between the problems connected with parallel flows and the convection problems is the anisotropy and (as a rule) lack of the reflection symmetry characteristic for the former problem. The typical instability of a parallel flow, predicted by the linear theory, is the
non-degenerated oscillatory instability
rather than a stationary instability or twofold degenerated oscillatory instability of convective problems.