2021 | OriginalPaper | Buchkapitel
Installing Reinforcement Rebars Using Virtual Reality and 4D Visualization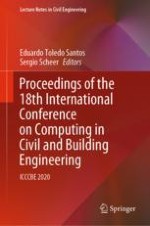 Erstes Kapitel lesen
Autoren: Martina Mellenthin Filardo, Tino Walther, Sireesha Maddineni, Hans-Joachim Bargstädt
Abstract
Improving the visual conception of concrete reinforcement plans is a big step for the digitalization of the construction site. Visualizing reinforcement with virtual reality (VR) technology requires the reinforcement to be modelled, ideally in a building information model. It also builds the ground for better information management between stakeholders, for example for formwork and built-in items.
Visualizing reinforcement using VR allows workers on the construction site to better understand and realize possible obstacles during installation and assembly.
Moreover, the visualization offers the possibility of a last visual collision test by the workers themselves. In addition, the sequencing of the rebar layout is a key factor for the performance during execution. An optimum layout sequence is reached by means of 4D simulation as well as simultaneously including formwork and other installation items.
This paper proposes visualizing concrete reinforcement on site using VR as well as rebar layout sequencing through a 4D model. This model will be applied on a real case study in infrastructure and civil works in Germany.