2017 | OriginalPaper | Buchkapitel
5. Institutional Coordination in the Economy-Environment Nexus and the Growth Regime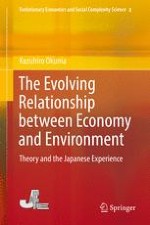 Erstes Kapitel lesen
Autor: Kazuhiro Okuma
Verlag: Springer Singapore
Abstract
This chapter analyzes the mechanisms of institutional coordination between economy and the environment (i.e., the economy-environment nexus) as well as its interactions with the growth regime, while recognizing this coordination as one of the institutional forms of the
régulation
theory.
When economic growth degrades the environment, actors in society, such as people suffering from the degradation, demand countermeasures of the economy. This feedback from the environment through society to the economy is the driving force of coordination. When there are gaps between relevant actors, such as polluters, victims, etc., these feedback loops are not connected. This results in delayed institutional coordination, a phenomenon we refer to as "spatial and temporal gaps of coordination."
When the economy faces crises, these institutions are reconsidered. Institutions in a given domain are required to be compatible with the growth regime, as well as with institutions in other domains. Both environmental and labor institutions have recently been required to prove their compatibility with the competition-oriented international regime.
We analyze the effects of the economy-environment nexus on the growth regime, specifying multiple routes through which environmental-measure cost impacts the demand and productivity regimes. An increase in this cost may raise demand by reducing resource importation, increasing labor wages for environmental measures, inducing environmental investment, and improving export competitiveness. This means that environmental measures, though adding to costs, can also raise profits and thus contribute to the growth. We call this phenomenon the "paradox of costs for environmental measures." This explains the mechanism of Green Growth.