01.08.2015 | Original Article | Ausgabe 4/2015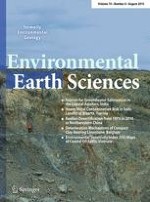 Integrated geochemical and microbiological approach to water quality assessment: case study of the Enyigba metallogenic province, South-eastern Nigeria
Zeitschrift:
Autoren:

Ogbonnaya Igwe, Ekundayo Joseph Adepehin, Jemima Omonigho Adepehin
Abstract
The Enyigba metallogenic province resides in the Lower part of the NE–SW trending Benue trough of Nigeria. Galena and Sphalerite occur in this basin and have attracted miners for over five decades. The non-conformity of miners to existing mining laws in the country has impacted the region negatively. This study examines the quality of water in the region, with the aim of ascertaining how much the unregulated mining operations have imparted it. Water samples were collected across four communities and subjected to hydrogeochemical and microbiological analyses. The presence of potential toxic elements (PTEs) in virtually all samples indicates some levels of contamination. Although, recorded PTEs fall considerably below WHO (Water quality assessments—a guide to use of biota, sediments and water in environmental monitoring
2011
) limits. The occurrence of Pb (≤0.008 mg L
−1
in rivers), Zn (≤0.048 mg L
−1
in hand-dug wells) and Se (≤0.002 mg L
−1
in rivers) calls for national attention, bearing in mind that this metals have long time cumulative effects on humans. The existence of Zn (≤0.011 mg L
−1
) and Se (≤0.002 mg L
−1
) in some analysed borehole samples revealed that not all the boreholes in the region are potable. The samples are rendered unsafe owing to the occurrence of pathogenic organisms with heavy microbial loads in them. Records of reasonable concentrations of PTEs in the water samples, strongly suggest negative impacts of mining on water quality in the area. Going by the findings of the studies, the water sources in the Enyigba mining district are not potable in their untreated states.