29.04.2021 | Ausgabe 3/2021 Open Access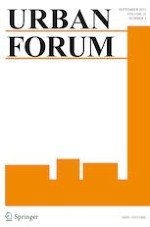 Integrating Food Sensitive Planning and Urban Design into Urban Governance Actions
Zeitschrift:
Autor:

Gareth Haysom
Wichtige Hinweise
Publisher's Note
Springer Nature remains neutral with regard to jurisdictional claims in published maps and institutional affiliations.
Introduction
South Africa is predominantly urban, with more than two-thirds of its population residing in urban areas. These urban areas are diverse, ranging from the conurbation that is the greater Johannesburg, to smaller towns and even sprawling peri urban settlements, some of which are legacies of South Africa's Bantustan and apartheid planning systems. Additionally, in South Africa many consume inadequate, nutritionally poor diets. Food insecurity is a structural issue, one that requires an encompassing policy and strategic planning response. The current largely agrarian focus of food security policy misses both the urban demographic profile, but also the changing nature of the food system. All spheres of government carry an obligation to progressively realise the Right to Food. For many South Africans, this right is yet to be realised. Problematically, South Africa's policy architecture effectively mandates national and provincial governments the role of enabling food access, and as such, ensuring the attainment of the Right to Food. This means that for urban areas, programming food security responses, and ensuring the realisation of the Right to Food and Nutrition is seen as a so-called unfunded mandate.
This paper argues that this is a flawed perspective. It argues that local governments have powerful tools at their disposal to effectively ensure the realisation of the Right to Food, and food security. These tools, specifically spatial planning, are not currently understood to have a food component. Food Sensitive Planning and Urban Design (FSPUD) offers a unique way in which to grapple with the intersections between the issues of inadequate food access, food insecurity, the (urban) food system, connections to wider systems, infrastructure and wider governance.
The paper starts with a broad discussion linking different aspects of planning, urbanisation and infrastructure. In order to highlight the urgency and importance of a specific urban focus, the paper then provides some detail on the state of food insecurity in South Africa and Cape Town (with reasons for the selection of Cape Town as a case study site). In order to reiterate the importance of the right to food and the obligations placed on local government, the paper briefly expands on how the right to food applies at the urban or local scale. The paper then concludes with a brief overview of food sensitive planning and urban design. The paper does not attempt to offer specific action steps, but rather presents the concept of FSPUD in broad terms, leaving it to planners and urban managers in specific contexts to operationalise such activities. While using the term FSPUD, it is appreciated that planning and urban design are not necessarily the same thing. In South Africa, and in many other African cities, "spatial planning happens at a variety of scales through plans and policies prepared by planners and policy drafters. Urban design happens at a smaller, precinct scale that typically, doesn't include policy" (Faragher,
2021
).
Linking food system issues to place and space, and design
The urban food system is finally garnering greater attention, specifically in the context of the intersection between negative urban food system–related outcomes, such as food insecurity, hunger, escalations in non-communicable diseases and persistent wasting, and urban function and form (Battersby & Watson,
2019
). Despite the current absence of systemic urban food related considerations, cities and the food system have always been connected (See Steel,
2008
). Food and cities connect in multiple ways, and yet, most policy and governance responses view cities simply, as recipients of food produced in rural or even peri urban areas. The flows of food into cities shape how markets function, how household purchase, prepare and consume food, but also other considerations such as waste, the food economy, both formal and informal and a variety of food-related considerations.
This blind spot to urban food issues has emerged as a critical and increasingly urgent challenge in the face of the Coronavirus, SARS-CoV-2 (COVID-19) pandemic. Not only has the veneer of urban food security been exposed as being flawed (Battersby,
2020
), with many falling into deep hunger in a very short space of time (Spaull et al.,
2020
), the impact of co-morbidities, many dietary related, has raised significant questions about the state of South Africa's food system and the impact of non-communicable diseases on COVID-19 cases. Because of the specific trajectory of SARS-CoV-2, spreading from the first reported cases in Wuhan, China, to other large, well-connected urban centres in the world, and then from there to smaller towns and finally to rural areas, "a pattern known as hierarchical diffusion" (Mosely,
2020
), the high urban prevalence and the scale of serious illness in South African cities requires far greater attention.
Given the pre-existing development challenges, and those now presented by SARS-CoV-2, new forms of urban development, management and governance are urgently needed. Aligning with a broader Southern urban perspective, the view offered by Pieterse et al. (
2015
) holds very true for South African urban areas at this time, that cities offer a small space where innovation and the re-thinking of urban governance can be developed. Speaking of infrastructure specifically, Pieterse et al (
2015
) go on to suggest that the infrastructure that is developed in African cities in the next 20 years will define the developmental trajectory of the continent well into the future. The same applies to South African cities and South African development trajectories.
This raises important questions about the urgent need for new forms of urban governance and the processes needed to facilitate access to items of a public good. A key public good is food (May,
2017
). Food, the food system and food system outcomes, as well as food and nutrition security, are seen by most urban governance actors in South Africa as an unfunded mandate, something that will either be addressed by the market—the private sector—or another sphere of government, generally national government. However, food touches almost every aspect of urban governance, policy and economy. Wayne Roberts argued this point 20 years ago:
More than with any other of our biological needs, the choices we make around food affect the shape, style, pulse, smell, look, feel, health, economy, street life and infrastructure of the city.
The traditional silos of local government mean that efforts to govern food through a
ministry of
food
, or through a sub-unit within another department will not deliver the integrated food system changes necessary to drive a truly urban food agenda. One of the few urban governance departments, or functions, that spans and intersects with all departments is planning. Planning, by its very nature is forward looking, as opposed to being reactive. This means that planning is ideally suited to respond to the urban food system challenge in a strategic and long-term manner.
That food needs to be an essential consideration for planners was recently affirmed by the Food and Agricultural Organisation, a body that generally drives the ruralised orientation of the food security discourse. The position argued applies directly to South African cities (South Africa is 66% urbanised), that.
with the majority of people already living in urban areas – not only in large metropolitan areas, but also in secondary cities and small towns – a greater focus on urban planning as a way of influencing food systems development will be critically important

(Stamoulis et al.,

2018

: v).
This perspective confirms both the primacy of South African cities in the wider food system, but also the need for cities to pay far greater attention to food and the food system.
This view of city-focused food systems governance, including planning as a key governance action, is emerging as a global trend. One of the most prominent governance documents connecting the food system–related challenges and cities is embedded in the New Urban Agenda (NUA) (UN-Habitat,
2017
). Within the NUA food is seen as part of the city—one of the first times that such a perspective has been offered by a global governance institution.
More widely a diverse collection of urban food governance actions are emerging. These ideas and concepts sit within a growing set of urban food–related research and positions and are being rapidly mainstreamed. Some of the more prominent urban food governance perspectives include urban–rural linkages (UN-Habitat,
2017
; Vorley & Lançon,
2016
), the city region food system (Blay-Palmer et al.,
2018
), the supermarketisation processes (Reardon et al.,
2003
) and even the re-emergence of earlier work relating to the nutrition transition and urbanisation's impact on this transition (Drewnowski & Popkin,
1997
; Popkin & Slining,
2013
). A number of these debates drove the embedding of food within the New Urban Agenda (Battersby & Watson,
2019
). However, this does not denote a universal urbanisation of the food question. The absence of urban food issues within the Millennium Development Goals and now the Sustainable Development Goals, across all goals, but specifically the urban goal (SDG 11) and the hunger goal (SDG 2) (Battersby,
2017
; Fukuda-Parr & Orr,
2014
) confirms this.
Cape Town has demonstrated a progressive and forward thinking approach to food. Cape Town was the first South African city to develop an Urban Agriculture Policy (City of Cape Town,
2007
), but also initiated a city-wide Food Systems Study completed in 2014 (Battersby et al.,
2014
). Recently, the city Resilience Strategy embedded food system actions and plans in this important strategy (City of Cape Town (CoCT),
2019
). How this gets expanded and integrated into wider urban governance and management processes is yet to be seen.
Centrally planned and governed national food security and food system plans have their place but are ineffective in responding to the food needs of an urban majority. It is only through cities engaging in urban food issues that effective, and contextually relevant responses will emerge.
Planning offers the essential entry point to engage the food system, from the city scale, and for effective planning and governance processes to emerge.
Understanding the nature of food insecurity and how many urban residents engage the food system assists in understanding some of the connections between the food system and the urban system. This in turn offers insights into how and where planning and urban design activities can start to engage urban food questions. To elaborate on this, the case of Cape Town is used: Given the history of engagement in urban food, there is a sensitivity to food related issues and questions. Secondly, recent surveys provide data which can be drawn on to compliment some of the below arguments.
Food (In)security and Food System Actions in South Africa and Cape Town
Clearly while the supermarket is frequented and used by most Capetonians, other food access points are also used, and used very differently, often in response to home and neighbourhood infrastructure provision. Food choices correlate directly to the lived reality of households. While income frequencies (monthly, weekly or daily) would influence this, other factors such as access to storage, energy access and its reliability, and refrigeration all drive food choice and choices about the point of food access. Clearly, many factors beyond those of just income poverty, contribute to food insecurity and impact food access. These factors are linked to infrastructure, spatial planning and urban design.
Constrained access to energy, both electricity and the different forms of cooking fuel, mean that households make strategic decisions on the types of foods prepared, often resorting to more processed and faster cooking food types. A further essential consideration relating to electricity access is its role in food preservation. Without electricity refrigeration is generally absent. This means that households strategically orientate their food purchases around such limitations. As a result, foods purchased often include processed foods that have a longer life (such as processed staples).
Alone the electricity related infrastructure deficit has a profound impact on the food system of the households. When considering the wider food system, if traders and neighbourhood retailers do not have access to electricity, water, even toilet facilities, this impacts their operating, stocking and daily work practices and supply cycles. In the context of SARS-CoV-2, this is even more challenging. Infrastructure deficits impact the types of food stocked. Infrastructure impacts many factors including costs, hygiene and supply chain processes. A question seldom asked in the debates around the nutrition transition and rise of NCDs in South Africa is what role energy, water and other infrastructure access plays in this transition? Clearly, food insecurity is directly linked to place and factors other than just food production or poverty. This implicates different levels of the state to act and ensure access to food and nutrition.
The Right to Food and Obligations of Different Spheres of Government
In a time when the rural demographic environment dominated, there were clear and understood links between food security and agriculture. As society has urbanised, policies and governance mandates have not kept up with these changing demographics. South Africa is a particular case in point where the national Department of Agriculture, Land Reform and Rural Development (DALRRD) still retains the overall mandate for food security. Policy located within a department, whose primary mandate is food production, results in a particular view of food security needs, but also a predominant perception of where the food insecure may reside, the rural areas of the country. This maintains the centralised, national government governance mandate. Problematically, this perspective of the location and governance of food insecurity drives fiscal allocations, or budgeting, that facilitates action and governance authority.
Food Systems Planning and Urban Design
This presents a real operational challenge to planners and other urban governance actors. Context, politics, urban needs and the everyday actions of planners and urban managers need to engage the questions, even tensions, of insurgent (informal) planning and structured (formal) planning in ways that maximise benefits and governance for all. This is a clearly understood Southern urban challenge and one through which food offers some opportunities.
Conclusion
It would be incorrect to say that Food Sensitive Planning and Urban Design is a trend. FSPUD is still in its infancy, emerging as a new way in which to de-scale and integrate food into local government planning and design. Despite being a persistent issue, the drastic lessons being learnt through the SARS-CoV-2 pandemic, demand new ways of urban provisioning and governance. Urban food governance and planning needs have been largely ignored in urban planning but are now seen to be seen as central to any aspirations of "building back better".
Perhaps the overriding challenge faced by South African cities, specifically the food insecure and hungry residents of these cities, is the fact that South African city managers believe that they have no mandate to govern food system–related activities. This is a false perception. The Constitution and other planning directives following from the Constitution make a proactive (or progressive) engagement in such food system activities an obligation of local and provincial governments. Initiating "silver bullet" projects such as urban agriculture initiatives can no longer be deemed appropriate. In fact, unless such projects form part of a detailed strategic urban scale food system plan and planning process, they serve as nothing more than politicking and a dereliction of city official's and politician's obligation to society.
Importantly, cities, particularly the larger metropolitan areas, are currently engaging multiple contemporary challenges, restructuring operating systems and processes to engage these challenges. Many of these challenges also demand greater integration and coordination. By their very nature, they require that city officials and politicians find ways to connect disparate initiatives and governance fragmentation. Issues such as climate change, resilience, migration, and global reputation all demand engagement across sectors, governmental silos and skills. Food systems planning is similar and forms part of a new type of urban governance.
Acknowledgements
The author would like to express their gratitude to the reviewers whose comments added significantly to the final version of the paper. I would also like to express my thanks to Tamsin Faragher for her comments on an earlier draft of this paper. Thanks also to Jane Battersby and Robyn Park Ross.
Declarations
Conflict of Interest
The author declares that there are no conflicts of interest.
Open Access
This article is licensed under a Creative Commons Attribution 4.0 International License, which permits use, sharing, adaptation, distribution and reproduction in any medium or format, as long as you give appropriate credit to the original author(s) and the source, provide a link to the Creative Commons licence, and indicate if changes were made. The images or other third party material in this article are included in the article's Creative Commons licence, unless indicated otherwise in a credit line to the material. If material is not included in the article's Creative Commons licence and your intended use is not permitted by statutory regulation or exceeds the permitted use, you will need to obtain permission directly from the copyright holder. To view a copy of this licence, visit
http://​creativecommons.​org/​licenses/​by/​4.​0/​
.
Publisher's Note
Springer Nature remains neutral with regard to jurisdictional claims in published maps and institutional affiliations.
Footnotes
1
The 2019 Food Poverty Line is R561 (using April 2019 prices) per person per month, from R547 in the 2018 year. That is about R18.70 a day.