01.07.2009 | CASE STUDY • COUPLED COST AND LIFE CYCLE ASSESSMENT | Ausgabe 5/2009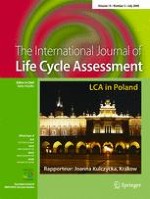 Integrating life cycle costs and environmental impacts of composite rail car-bodies for a Korean train
Zeitschrift:
Autoren:

Pascale Schwab Castella, Isabelle Blanc, Marcel Gomez Ferrer, Bastien Ecabert, Martyn Wakeman, Jan-Anders Manson, Daniel Emery, Seong-Ho Han, Jinglan Hong, Olivier Jolliet
Wichtige Hinweise
Responsible editor: Tak Hur
Abstract
Background, aim, and scope
A coupled Life Cycle Costing and life cycle assessment has been performed for car-bodies of the Korean Tilting Train eXpress (TTX) project using European and Korean databases, with the objective of assessing environmental and cost performance to aid materials and process selection. More specifically, the potential of polymer composite car-body structures for the Korean Tilting Train eXpress (TTX) has been investigated.
Materials and methods
This assessment includes the cost of both carriage manufacturing and use phases, coupled with the life cycle environmental impacts of all stages from raw material production, through carriage manufacture and use, to end-of-life scenarios. Metallic carriages were compared with two composite options: hybrid steel-composite and full-composite carriages. The total planned production for this regional Korean train was 440 cars, with an annual production volume of 80 cars.
Results and discussion
The coupled analyses were used to generate plots of cost versus energy consumption and environmental impacts. The results show that the raw material and manufacturing phase costs are approximately half of the total life cycle costs, whilst their environmental impact is relatively insignificant (3–8%). The use phase of the car-body has the largest environmental impact for all scenarios, with near negligible contributions from the other phases. Since steel rail carriages weigh more (27–51%), the use phase cost is correspondingly higher, resulting in both the greatest environmental impact and the highest life cycle cost. Compared to the steel scenario, the hybrid composite variant has a lower life cycle cost (16%) and a lower environmental impact (26%). Though the full composite rail carriage may have the highest manufacturing cost, it results in the lowest total life cycle costs and lowest environmental impacts.
Conclusions and recommendations
This coupled cost and life cycle assessment showed that the full composite variant was the optimum solution. This case study showed that coupling of technical cost models with life cycle assessment offers an efficient route to accurately evaluate economic and environmental performance in a consistent way.