2004 | OriginalPaper | Buchkapitel
Integrity Testing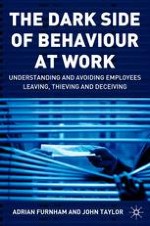 Erstes Kapitel lesen
Autoren: Adrian Furnham, John Taylor
Verlag: Palgrave Macmillan UK
For over 50 years psychologists dreamt of devising robust and reliable tests to measure the integrity of people — a notion that has been very attractive to many employers. The idea of having a good (cheap and efficient) way of testing honesty and integrity has been a holy grail. Fifty years of test development and evaluation have led to the following conclusions:
There is now a reasonable body of evidence showing that integrity tests have some validity for predicting a variety of criteria that are relevant to organizations. This research does not say that tests of this sort will eliminate theft or dishonesty at work, but it does suggest that individuals who receive poor scores on these tests tend to be less desirable employees. (Murphy 1993 p 215)

Thus, a large body of validity evidence consistently shows scores on integrity tests to be positively related to both a range of counterproductive behaviours and supervisory ratings of overall performance. However, virtually all the research has been done by test publishers, leading sceptics to question whether only successes are publicised. (Sackett 1994 p 74)

Intentional distortion on self-report measures is often assumed to be a serious threat to criterion-related validity of such measures. The preponderance of evidence to date suggests that it may not be as serious a problem as is often thought. Indeed the evidence suggests that validity if it is affected at all, is affected only modestly.