2019 | OriginalPaper | Buchkapitel
Intellectual Property as a Financial Contribution Under the WTO Subsidies Agreement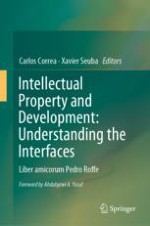 Erstes Kapitel lesen
Autor: Miguel Ángel Elizalde Carranza
Verlag: Springer Singapore
Abstract
This chapter has been drafted in honor of Pedro Roffe, for whom I have admiration and gratitude. His work at the United Nations Conference on Trade and Development (UNCTAD) and the International Centre for Trade and Sustainable Development (ICTSD) on the multiple dimensions of the relationship between intellectual property and development has guided policy-makers and scholars around the world. I have had the chance to collaborate with Pedro in trainings organized by the Interamerican Bank, where I have witnessed not only his influence but also Pedro's generosity. This chapter argues that intellectual property rights (IPRs) that government transfer to private entities could be considered as financial contributions in form of the "provision of goods" under Article 1.1(a)(1)(iii) of the Agreement on Subsidies and Countervailing Measures (SCM Agreement). Following a brief introduction in this section, a general overview of the disciplines of the SCM Agreement is provided in Sect.
2
, including a description of the elements of the definition of "subsidy". Section
3
addresses the question of whether IPRs can properly be characterized as "goods". It is hold that IPRs are neither tangible goods nor intangible services, and that the term "goods" should be interpreted in the context of "financial contributions". Based on the foregoing, it is argued that IPRs are "intangible goods" within the meaning of the term "goods". In Sect.
4
it is argued that the Appellate Body (AB) findings in
US
—
Softwood Lumber IV
case do not exclude the possibility of accepting intangible goods within the scope of application of this provision. In Sect.
5
, we observe that when existing IPRs are transferred by a government to a private entity, it is not problematic to consider that goods have been "provided" in the context of a financial contribution.