2019 | OriginalPaper | Buchkapitel
Intelligent Machines as Participants in the Socioeconomic Relations of the Cyber Economy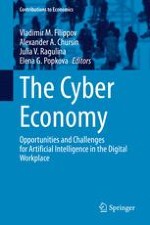 Erstes Kapitel lesen
Autoren: Valery A. Tsvetkov, Mikhail N. Dudin
Abstract
Purpose
: The purpose of this chapter is to study the technical, sociocultural, and economic role of intelligent machines (also sometimes referred to as "intelligent agents") in the cyber economy. We present research results, conclusions, and recommendations on the systemic involvement of intelligent machines into the socioeconomic relations in the near future.
Design/methodology/approach
: Not long ago it seemed that the usage of intelligent machines as an integral part of the economy would be many years away. However, the rapid technological shift in the second part of the twentieth century has enabled the intellectualization, automatization, and robotization of physical and virtual (digital) space. Intelligent machines now perform key roles in the socioeconomic relations of the cyber economy. In this chapter, the authors use content analysis of a wide range of publications, statistical analysis of the data on implementation of intelligent machines in the cyber economy, and futuristic forecasts regarding the midterm perspectives and limitations of using such agents in socioeconomic relations.
Findings
: The research shows that the participation of intelligent machines in the cyber economy has already been established and has a positive influence on the development of global socioeconomic relations, stimulates the growth of national economies, and provides significant labor efficiencies. Conclusions regarding the performed study and future directions of research are offered.
Originality/value
: It is substantiated that the benefits of using intelligent machines could be lost through economic and reputation losses. That is why there is a necessity for the institutionalization of the space of interaction between humans and intelligent machines under the condition that such intelligent agents have limited autonomy over their functioning and decision-making (i.e., they are controlled by humans), but they are also able to conduct monitoring of human activities and have the right to block human actions that are beyond their competences (through a system of controls and counterbalances).