2018 | OriginalPaper | Buchkapitel
6. Interacting with the Innovators:
Innovation Tipping Points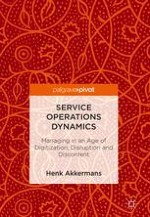 Erstes Kapitel lesen
Autor: Henk Akkermans
Abstract
There can be such a thing as too much innovation. Increasingly, services live in a digital and disruptive world, and as a result need innovations, usually digital ones, at a very high pace. But this pace can also be set too high. This is what happened at a European telecom company. It then started having increasing performance problems in its digital TV (DTV) services as a result of its relentless pursuit of innovation. Every innovation comes with its set of initially undiscovered bugs and flaws. When these become active, they drain scarce capacity aimed at Quality Assurance (QA) and fixing of bugs away for incident solving. So when innovation rates become too high, they may pass a tipping point and service performance can collapse completely.