01.10.2019 | XXIII INTERNATIONAL SYMPOSIUM "NANOPHYSICS AND NANOELECTRONICS", NIZHNY NOVGOROD, MARCH 11–14, 2019 | Ausgabe 10/2019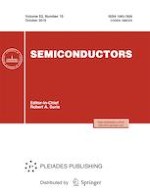 Interaction of a Tamm Plasmon and Exciton in an Organic Material in the Strong Coupling Mode
Zeitschrift:
Autoren:

K. M. Morozov, A. V. Belonovskii, K. A. Ivanov, E. I. Girshova, M. A. Kaliteevski
Abstract
The interaction of a Tamm plasmon with an exciton in an organic material in the strong coupling mode is investigated theoretically. The structure consists of five pairs of layers of silicon oxide and tantalum oxide, an organic light-emitting layer of 4,4'-bis(
N
-carbazolyl)-1,1'-biphenyl, and a silver layer. It is shown that the splitting of polariton modes (Rabi splitting) with a magnitude of >400 meV can occur in such a structure, which can be accompanied by an increase in the luminescence bandwidth up to 700 meV.