2011 | OriginalPaper | Buchkapitel
9. Interactive Parsing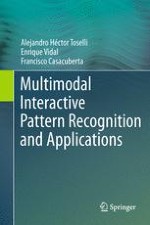 Erstes Kapitel lesen
Autoren: Dr. Alejandro Héctor Toselli, Dr. Enrique Vidal, Prof. Francisco Casacuberta
Verlag: Springer London
Abstract
This chapter introduces the Interactive Parsing (IP) framework for obtaining the correct syntactic parse tree of a given sentence. This formal framework allows us to make the construction of interactive systems for tree annotation. These interactive systems can help to human annotators in creating error-free parse trees with little effort, when compared with manual post-editing of the trees provided by an automatic parser.
In principle, the interaction protocol defined in the IP framework differs from the left-to-right interaction protocol used throughout this book. Specifically, the IP protocol will be of desultory order; that is, in IP the user can edit any part of the parse tree and in any order. However, in order to efficiently calculate the next best tree in IP framework, in Sect.
9.4
, a left-to-right depth-first tree review order will be introduced. In addition, this order also introduces computational advantages into the lookout of most probable tree for interactive bottom-up parsing algorithms. The use of Confidence Measures in IP is also presented as an efficient technique to detect erroneous parse trees. Confidence Measures can be efficiently computed in the IP framework and can help in detecting erroneous constituents within the IP process more quickly, as they provide discriminant information over all the IP process.