28.02.2017 | Original Paper | Ausgabe 1/2018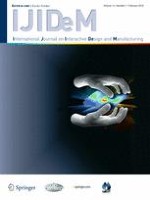 Interdependency between user experience and interaction: a Kansei design approach
Zeitschrift:
Autoren:

Theo Mahut, Carole Bouchard, Jean-Francois Omhover, Carole Favart, Daniel Esquivel
Abstract
The objective of this paper is to formalize and enrich the relation between user experience and interaction. Both a
State of the Art
and an
Empirical Study
are presented along this paper. It results in a theoretical model of design information that formalizes and highlights key principles of the interdependency between user experience and interaction in early design. The research is situated within a long-term work on Kansei design and later on Experience Design in the Kansei Design Division of Toyota Motor Europe. The method we used to conduct the empirical study consists in evaluating the cognitive and affective impacts of two user experiences and four interactive prototypes on 30 participants. In so doing, we highlighted key principles of interdependency presented as notions of consistency; temporality; intertwining; complementarity and immersibility. Such research aims to develop and strengthen an in-depth understanding of interaction from a user experience point of view, in order to make available different tools and methodologies for interaction's creation and evaluation. This research can be of value for both researchers in cognitive psychology, user experience, interaction design, kansei design or design of emotions, and for designers, engineers or ergonomist from the industrial world.