30.09.2016 | Ausgabe 1/2017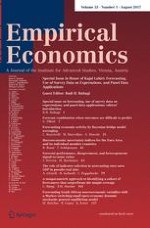 Interest rate assumptions and predictive accuracy of central bank forecasts
Zeitschrift:
Autoren:

Malte Knüppel, Guido Schultefrankenfeld
Wichtige Hinweise
A previous version of this paper was published as Bundesbank Discussion Paper 11/2013 under the title "The empirical (ir)relevance of the interest rate assumption for central bank forecasts". The authors would like to thank Elena Afanasyeva, André Barbosa Coutinho Marques, Scott Brind, Philip Evans, Karsten Gerdrup, Alan Mankikar, Simon Price, Maria Teresa Valderrama, an anonymous referee, and seminar participants at the Joint Research Workshop of the Norges Bank and the Deutsche Bundesbank, the 7. Workshop Makroökonomik und Konjunktur ifo Dresden, the CEF 2012 Prague, and at the 3rd Bundesbank-CFS-ECB Workshop on Macro and Finance for helpful comments and suggestions. This paper represents the authors' personal opinions and does not necessarily reflect the views of the Deutsche Bundesbank.
Abstract
The interest rate assumptions for macroeconomic forecasts differ among central banks. Common approaches are given by the assumptions that interest rates remain constant over the forecast horizon, follow a path as expected by market participants or follow a path as expected by the central bank itself. Theoretical papers such as Svensson (The instrument-rate projection under inflation targeting: the Norwegian example. Centre for European Policy Studies Working Paper (127),
2006
) and Galí (J Monet Econ 58:537–550,
2011
) suggest an accuracy ranking for these forecasts, from employing central bank expectations yielding the highest forecast accuracy to conditioning on constant interest rates yielding the lowest. Yet, when investigating the predictive accuracy of the Bank of England's and the Banco Central do Brasil's forecasts for interest rates, inflation and output growth, we hardly find any significant differences between forecasts based on the different interest rate paths. Our results suggest that the choice of the interest rate assumption appears to be of minor relevance empirically.