01.06.2015 | Communication | Ausgabe 3/2015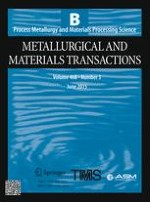 Interfaces Between Coke, Slag, and Metal in the Tuyere Level of a Blast Furnace
Zeitschrift:
Autoren:

Kejiang Li, Jianliang Zhang, Zhengjian Liu, Mansoor Barati, Jianbo Zhong, Mengfang Wei, Guangwei Wang, Kexin Jiao, Tianjun Yang
Wichtige Hinweise
Manuscript submitted January 17, 2015.
Abstract
An in-depth understanding about the reactions in the high-temperature zone of a blast furnace is significant to optimize both the current and future blast furnace process. The interfaces between coke, slag, and metal were observed using scanning electronic microscope with samples obtained from the tuyere level of a blast furnace. Two types of slag phases were identified, one originating from coke ash and the other from the bosh slag. Slag formed by coke ash was seen to cover the coke surface, which may hinder the reaction of coke with both gas and liquid iron. The reduction of FeO from the bosh slag (originated from the primary slag) occurs in the coke/slag interface with the reduced iron forming a metal layer surrounding the coke surface. The reduction of SiO2 occurs both in and outside the coke, and the reduced silicon reacts with iron to form iron silicide if the two species come into contact. Further study is proposed based on the results of this study.