10.01.2019 | Communication | Ausgabe 3/2019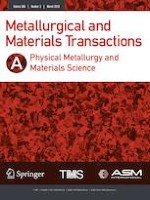 Interfacial Effect on the Deformation Mechanism of Bulk Nanolaminated Graphene-Al Composites
Zeitschrift:
Autoren:

Lei Zhao, Qiang Guo, Yan Shi, Yu Liu, Shmuel Osovski, Zhiqiang Li, Ding-Bang Xiong, Yishi Su, Di Zhang
Wichtige Hinweise
Electronic supplementary material
Manuscript submitted July 21, 2018.
Abstract
Uniaxial tensile tests were carried on graphene (reduced graphene oxide, RGO)–Al laminated composites with Al lamella thicknesses varying from 1
μ
m down to 200 nm. It was found that there was a transition in plastic deformation mechanism, from a Hall–Petch-typed mechanism at 500 nm and 1
μ
m Al lamella thicknesses, to confined layer slip (CLS) of dislocations at the 200 nm Al lamella thickness. Moreover, the strengthening effect of RGO was only demonstrated in composite having 200-nm-thick Al lamellas, which can be rationalized by the enhanced barrier for dislocation de-pinning processes in the CLS mechanism.