01.10.2016 | Research Paper | Ausgabe 10/2016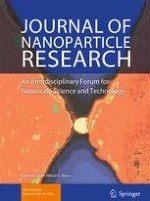 Intergrown SnO2–TiO2@graphene ternary composite as high-performance lithium-ion battery anodes
Zeitschrift:
Autoren:

Zheng Jiao, Renmei Gao, Haihua Tao, Shuai Yuan, Laiqiang Xu, Saisai Xia, Haijiao Zhang
Wichtige Hinweise
Electronic supplementary material
The online version of this article (doi:
10.​1007/​s11051-016-3617-5
) contains supplementary material, which is available to authorized users.
Abstract
In recent years, a lot of metal oxides with high theoretical capacity have widely investigated as the high-performance anode materials for lithium-ion batteries (LIBs). In this work, a simple, facile and effective one-pot hydrothermal strategy toward ternary SnO2–TiO2@graphene composite has been developed by using SnCl2 and TiOSO4 as the starting materials. The obtained composite demonstrates a unique structure and high surface areas, in which both SnO2 and TiO2 nanoparticles are well grown on the surface of graphene. More interestingly, the SnO2 and TiO2 nanoparticles are intergrowth together, totally different with the traditional ternary hybrids. When used as anode material for LIBs, the introduction of TiO2 plays a crucial role in maintaining the structural stability of the electrode during Li+ insertion/extraction, which can effectively prevent the aggregation of SnO2 nanoparticles. The electrochemical tests indicate that as-prepared SnO2–TiO2@graphene composite exhibits a high capacity of 1276 mA h g−1 after 200 cycles at the current density of 200 mA g−1. Furthermore, the composite also maintains the specific capacity of 611 mA h g−1 at an ultrahigh current density of 2000 mA g−1, which is superior to those of the reported SnO2 and SnO2/graphene hybrids. Accordingly, the remarkable electrochemical performance of ternary SnO2–TiO2@graphene composites is mainly attributed to their unique nanostructure, high surface areas, and the synergistic effect not only between graphene and metal oxides but also between the intergrown SnO2 and TiO2 nanoparticles.
Graphical abstract
Intergrown SnO
2
and TiO
2
nanoparticles have been successfully anchored onto the graphene nanosheets as high-performance lithium-ion battery anodes.
×